December 25, 2015
Posted by:

isoqaruser

Categories: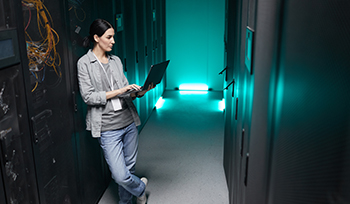 EMBRACE SMS AND ENHANCE YOUR SERVICE DELIVERY CAPABILITY.
Till 2011 it was believed that ISO 20000 is only applicable to IT/ITES sector. Today it's available as a service management framework to all service organizations. The International Standard for Service Management often referred to simply as ISO 20000, is the international
IT service management (ITSM) standard that enables service organizations (whether in-house, outsourced or external) to ensure that their ITSM processes are aligned both with the needs of the business and with international best practice.
Formally: ISO/IEC 20000-1 ('Part 1′) "promotes the adoption of an integrated process approach to effectively deliver managed services to meet the business and customer requirements". It comprises following sections:
Scope
Terms and definitions
Planning and implementing service management
Requirements for a management system
Planning and implementing new or changed services
Service delivery processes
Relationship processes
Control processes
Resolution processes
Release process.
Like any other good improvement initiative, ISO 20000 is not a destination, it's a journey. A journey in which organization strives to achieve world class service management practices based on real customer input and requirements.
Whether or not an organization is seeking ISO 20000 certification, it should first and foremost establish a culture of continual improvement in SMS and seek to understand the ITIL processes that are key to business success.
SOME STEPS TO CONSIDER: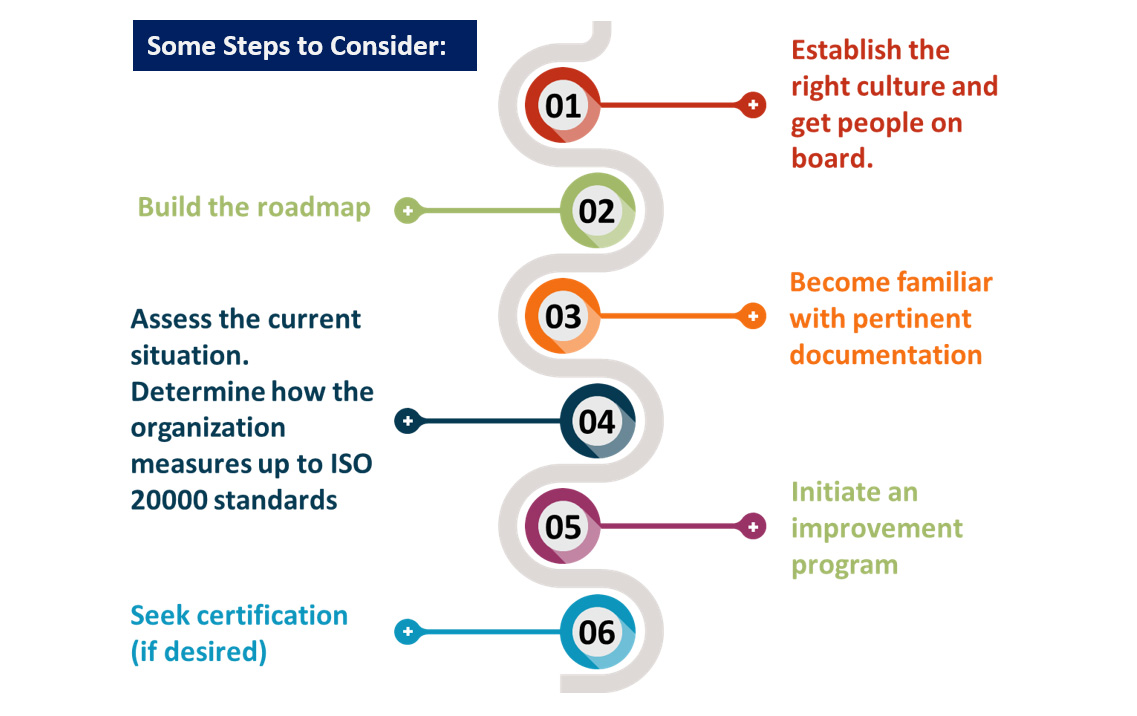 COMMON BENEFITS OF ISO 20000 CERTIFICATION FOR SERVICE PROVIDERS:
Offers competitive differentiation by demonstrating reliability and high quality of service;
It gives access to key markets, as many organizations in the public sector mandate that their service providers demonstrate compliance with ISO 20000;
Enforces a measurable level of effectiveness and a culture of continual improvement by enabling service providers to monitor, measure and review their service management processes and services;
It helps leverage ITIL practices to optimize resources and processes.
Roles, responsibilities, and ownership of all processes remove bottlenecks and ambiguities in service management domain and helps to overcome natural barriers between organizational units.
Management is involved in the process from the beginning, and the feedback they receive regularly enables a better quality of tactical and strategic decisions and greatly enhances communication within the organization.
ISO 20000 AND ITIL:
The basic difference between ISO 20000 and ITIL is that ISO 20000 gives you the methodology and framework, while ITIL gives you the details (the best practices) on how to manage each and every service delivery process in your organization.
The simpler way to think of it is that ISO 20000 says WHAT you need to do, while ITIL tells you HOW to do it.
ISO 20000 does not work in complete isolation. It can be implemented independently from ITIL, but they do go very well together.
As opposed to a standard, ITIL is a practical framework of best practices that focus on aligning your IT services with the wider needs of your business.
ISO 20000 is based on the fundamental principles of ITIL and is a standard that your company can certify against.
Individuals seeking excellence in ITSM and internationally recognized certification can become certified against ITIL and ISO 20000.
ITIL is not required to gain certification in ISO 20000, but it is easier to achieve if you're following an ITIL approach to IT service management.
SHORT TIPS FOR IMPLEMENTING ISO/ISO 20000:
Determine scope of SM
Determine Objectives and Requirements including Service Catalogue
Detail Processes to be executed
Detail framework of Management Roles and responsibilities including senior
Define process owners and management of suppliers.
Define Interface between SM processes and the activities to be executed
Determine approach for managing issues and risks for achieving defined objectives.
Determine Interfacing to projects that are creating or modifying services
Identify Resources, facilities and budgets required to meet planned objective
Identify Tools to support processes
Management of quality of service, auditing and improvement.
Verify implementation of Service management plans and objectives including
Allocation of funds and budgets
Allocation of roles and responsibilities
Implementing policies, plans, procedures and definitions for each process and set of processes.
Identification and management of risks to services
Recruitment and management of staff including staff continuity.
Managing facilities and budgets
Team management including service desk and operations
Verify progress reporting against plans
Verify coordination of service management processes.
COMMON MYTHS RELATED TO ISO 20000 IMPLEMENTATION-
Implementing a standard is not an everyday job. Therefore, it requires a lot of activities before a decision is made for "Go/No-Go".
Here are some of the activities to overcome myths related to ISO 20000 implementation.
"ISO 20000 is only for big companies." – Stated, but not true. It could be implemented in organizations of all sizes.
"The implementation scope is huge and we don't have the resources for that." – Well, there are many other possibilities that give you the opportunity to implement ISO 20000 in a smaller company without many resources.
"We know our management; they are not interested in such projects." – I'm sure they are, but you have to get them. Management like to hear about (and is interested in) productivity increases, financial savings, or increased customer satisfaction.
"Tools to support the implementation are a huge cost factor."- There are many free-of-charge tools that can help you.
COPC & ISO 20000
ISO's coverage is comprehensive as it covers all aspects of operations. COPC focuses on aspects which enable company to achieve good performance
COPC as a performance management system is more inclined to setting and meeting performance targets. It is not so particular with it documentation approach as compared to the ISO which is a total service quality management system
The ISO 20000 standard based on ITIL is very holistic standard the approach of PDCA Has proven effective, there is no such specific approach for COPC
CONCLUSION:
For getting the right benefits of SMS to your organization design an effective SMS based on service requirements (SLA) and thereby determine the inter dependencies and associated OLA's. Design service components and an effective monitoring system. It rightly said, "What gets measured gets improved". Service reporting is the key component coupled with effective CMDB & KEDB.